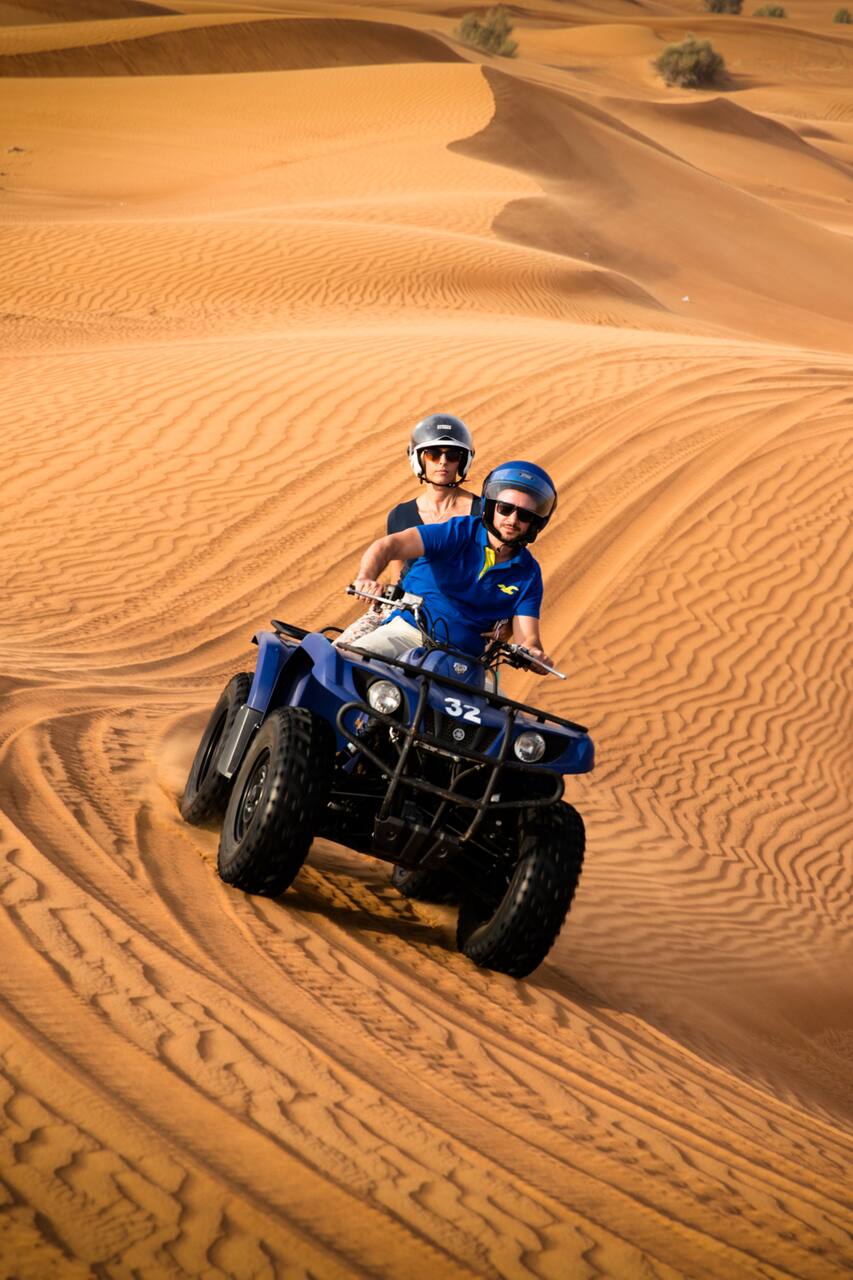 Includes:
美食、饮品、1张票、提供装备和交通
Hi folks, I am Sagar. I moved to Dubai 8 years back and have been guiding Dubai desert tours ever since. Made a good name as a guide in desert safaris as Mr. Dependable Guide. It was by the end of 2016 that I joined the team of Arafu & Manz who are experienced professionals. Now I find conducting Dubai desert safaris even more enjoyable and my guests share the same enthusiasm!!
After we pick you up from the selected hotel/location, we proceed to Lehbab desert, popular for its red sand dunes. You will have an adventure session first. On reaching the Quad Bike Centre, listen to the instructions, get on the Quad Bike, and ride over the red dunes for about 50-60 minutes. You can do sandboarding aswell for more adventure. Next, you will be driven to desert camp. On…
Participants must be at least 16 years of age or older. Quad tours are not covered by insurance & your own responsibility. Upgrade to Al Khayma Desert camp with extra cost.
小吃和其他
BBQ Dinner at Desert camp. Gaymat, Gahwa & Dates Open buffet with veg & non-veg options and desserts . You will be served with Gahwa (Arabic coffee), Gaymat (sweets), Dates, and Soft drinks, upon your arrival at Desert Camp.
饮品
Unlimited Soft Drinks Bottled Mineral Water during transfers, and unlimited soft drinks at Desert Camp
工单
Quad bike Quad bike rent for approx. 50 - 60 minutes ride
交通
Toyota Land Cruisers For pickup and drop off and drive through the desert to reach the camp
装备器材
Sandboard Please wear sports shoes for safe sandboarding
Sport Shoes for Sand boarding
Wear jeans to avoid the heat from Quad Bike's engine
We'll be taking you to Lahbab desert, which is located between Dubai and Oman borders, approximately 50 kms away from the city. A true nature's wonder, Lahbab is well known for its reddish sands and peculiarly high dunes, making it a fine spot for desert adventure activities.