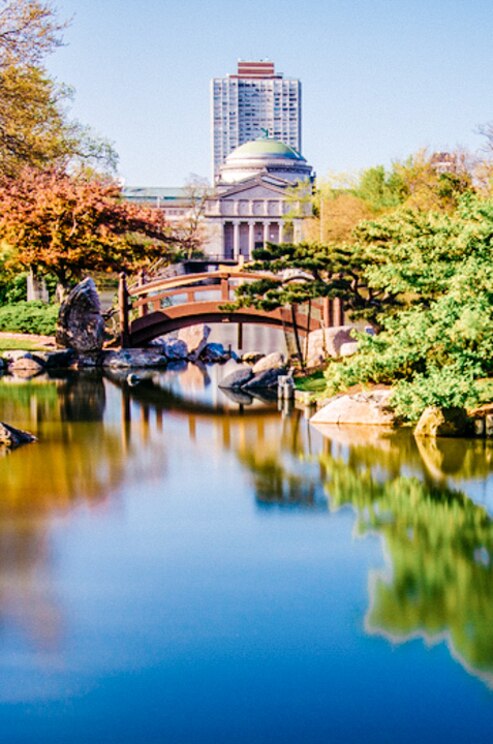 The experience begins at Powell's Books—located five minutes from the Museum of Science and Industry—or MSI—in Jackson Park. We'll head into the park and see some buildings and landmarks left over from the 1892 Columbian Exposition. This area was known as White City, an architectural and technological marvel that…
I have operated a small tour company in Hyde Park for the last few years and love showing off all that the neighborhood has to offer—history, art, architecture, and so much more. Creating, guiding, and just being on tours is a passion of mine. I created this experience with the intention of making it a bike tour someday. In my other life, I was also an Airbnb Superhost with units at an old University of Chicago dorm in Hyde Park. It has been a great way to become part of the community and it's what brought you to me today.
We'll start at Powell's Books on 57th Street in Hyde Park before walking into Jackson Park, behind the Museum of Science and Industry, and onto the Wooded Island. We'll enter the Garden of the Phoenix and walk the grounds as fairgoers did over a century ago. Then we'll visit Midway Plaisance, near the Obama Presidential Center and the University of Chicago. Finally, we'll head up Harper Avenue and make our way back up to 57th Street.
您将需要拍一张自拍照,自拍照需要与您身份证件上的照片相匹配,以帮助爱彼迎确认真正将要参加体验的是谁。这个步骤您只需要做一次就可以了。
DOUBLE CHECK GPS/MAPS TO MAKE SURE YOU HAVE CHOSEN POWELL'S IN HYDE PARK ON 57TH STREET!!!!!!!! Please be prepared to walk for about 90 minutes in the park, where there will be no restrooms available.