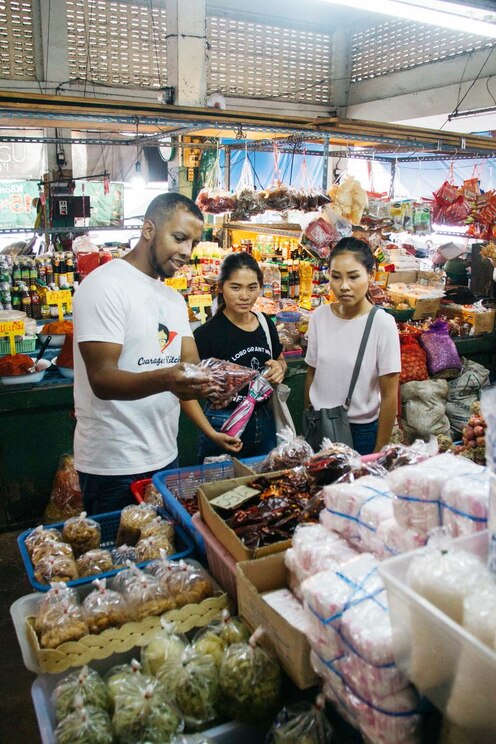 Welcome to our Courageous Kitchen! - Visit a small local market - Taste street food snacks - Stroll in our neighborhood - Make a Thai herbal drink - Cook 3-4 dishes - Go home stuffed and cook on your own with our pdf of Thai recipes! 这烹饪课程不是用中文授课但是如果您想要,我们能在菜谱书里提供给您中文版的菜谱 We will meet you and take you our…
包括:
Equipment, Drinks, Food

Cook A Thai Meal. Street Food Snacks Cook popular Thai dishes and some that may be new to you. We'll finish with a delicious…

Drinks and Fruit Water and herbal drinks available. Chilled and cut seasonal fruits as well.

PDF Recipe Book After booking, we'll send you a link where you can download a pdf with our favorite recipes.
Come meet the Courageous Kitchen crew! Dwight and Panisha are longterm Bangkokians passionate about eating well, and creating memorable food experiences. They'll have help hosting you from Alina, Lily, and Oun who are all Thai food superstars. The team will be on hand to make sure you enjoy your experience with us, and so we can answer any questions you may have about our charity. Proceeds from your cooking class help our team teach kids from some of Bangkok's most marginalized communities!
Courageous Kitchen is a non-profit organization inspiring marginalized youth through the power of food! The organization, a registered 501c3, provides food aid and education to improve the lives of those in need. We're changing Bangkok for the better, one plate at a time!
这是一个公益体验,您为参加体验所支付的费用将全数捐赠给Courageous Kitchen Inc.。
Our Thai neighborhood is a great place to experience Thai life and is accessible by BTS Skytrain. Far from the large hotels of the tourist district, our area is centered around a small local fresh market where we've purchased the day's ingredients. There is a good selection of street food vendors we can visit before returning to our home to cook.
未来数日的可订状态
如果您想预订的时段没有显示可订状态,您可以向Dwight & Panisha。
For date requests, custom classes, and large groups, please msg us in advance. If you have any allergies or dietary restrictions, we're happy to adjust the menu if you let us know.