暂停至 5月28日。 受新冠肺炎疫情影响,为保护社区成员的健康,许多地区的爱彼迎体验现已暂停。 请在预订前访问帮助中心,了解最新信息。
Eat and drink, and even make moonshine in nomadic communities
暂停至 5月28日。 受新冠肺炎疫情影响,为保护社区成员的健康,许多地区的爱彼迎体验现已暂停。 请在预订前访问帮助中心,了解最新信息。
Eat and drink, and even make moonshine in nomadic communities
Before our nomadic journey begins, we'll meet in Ulaanbaatar to meet other travelers and discuss responsible travel practices. The following day, we'll head to Terelj National Park to meet with nomads and make famed Mongolian BBQ in the open steppe. We'll take an ox cart or horse ride to meet another nomadic family to learn to make nomadic milk moonshine. We'll also learn how to erect a traditional ger (yurt) and will end the journey with a visit to the Chinggis Khan statue before returning to Ulaanbaatar. GER to GER offers include: 3 meals a day (in accordance with the itinerary), private vehicle, English speaking guide, your own nomadic Ger, personalized experiences with nomadic families and more! Remember that GER to GER is Mongolia's #1 Awarded Specialists in RESPONSIBLE travel - we pay fairly to locals. Note: The day before we make the drive from Ulaanbaatar City to the National Park, you will need to complete a travel workshop at the organization's office in Ulaanbaatar. Please set up your training prior to your arrival in Mongolia. DEPARTURE DATES: If you require a different departure date than what we are offering - please do contact us via the contact form and we are delighted to further assist you! However, please note that our pre-selected departure dates are chosen to ensure that there are no overlaps with other scheduled/booked trip departures.
GER to GER is Mongolia's number 1 Specialists in "Nomadic Geotourism" - community based tourism networks comprised of nomadic families that safely manage and operate their own unique experiences across Mongolia. GER to GER has over a decade of international recognitions and even a Medal of Honor. During your experience, you will be living with genuine nomadic families - in your own "Ger" ("Yurt") - learning, eating and traveling their ways with a guide! GER to GER offers include: 3 meals a day, private vehicle, English speaking guide, your own nomadic Ger and personalized experiences with nomadic families. National Geographic Society: "Geotourism" is defined as tourism that sustains or enhances the distinctive geographical character of a place—its environment, heritage, aesthetics, culture, and the well-being of its residents.

4晚蒙古包住宿

入场费

4 午餐, 3 早餐, 3 晚餐, 零食

茶

1趟汽车, 其他

其他
Starting in Ulaanbaatar, the capital and largest city in Mongolia, we'll drive northeast to Terelj National Park. We'll cross the Terelj River to where the nomadic families live.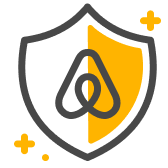 房客安全
每趟冒险之旅都谨遵行业准则。 我们携手探险旅行业的领军机构「探险旅行同业公会」,定义保障安全的最佳实践和标准。
最多可有6位年满18周岁的参与者参加。家长也可携带2岁以下的儿童参加。 这项探险体验属于轻松活动。 Guest shall attend the mandatory "Responsible Travel Workshop" training at least 1 day before traveling on GER to GER to enhance your "Live Like a Local" abilities (country info, history, culture,…
您将需要拍一张自拍照,自拍照需要与您身份证件上的照片相匹配,以帮助爱彼迎确认真正将要参加体验的是谁。这个步骤您只需要做一次就可以了。
这项体验内容里包含烈酒,但只向达到法定饮酒年龄的参与者提供酒精饮料。
GER to GER has over a decade of international recognitions, including a Mongolian Ministry Medal of Honor. You'll be educated/supported to ensure safety; please note, vehicles will be 3rd party driver
由热爱事业、热爱家乡的当地人开展。

小团深度游,拒绝随大流。

每项体验都需要通过资源独家性方面的审核。