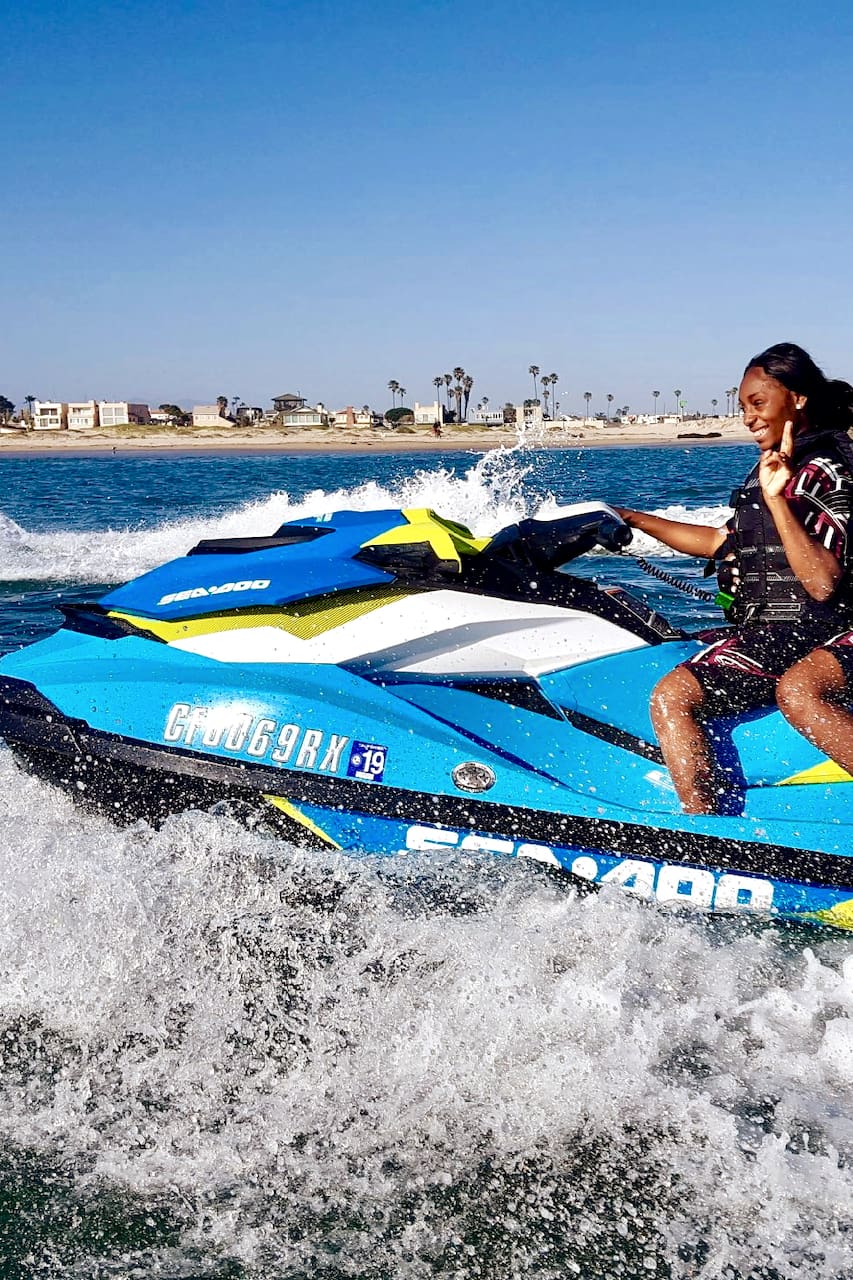 Jet Ski with dolphins and Sea lions
Jet Ski with dolphins and Sea lions
I'm the owner of SoCalJetSkis. I started my business six years ago and we went from Jet Skis to go on to adding Electric boat rentals and bicycles. Year on year my team built up a great customer base. I couldn't believe how much wild life we'd see out in the ocean and we'd soon get to know some great spots to see Dolphins and sea lions. The Dolphins seem to love racing the skis and also love the…
Encounter dolphins and sea lions close up on our Jet ski experience. You ride out from Channel Island Harbor to the Pacific ocean. Our trip will depart from 3600 Harbor Blvd Oxnard CA 93035 which is Marine Emporium Landing. We will ride our Jet Skis out of Channel Islands Harbor and head out to the pacific ocean to look for dolphins, sea lions and other marine life. The whole trip takes about 90…
Arrive 30 minutes prior to ride time. Wild life can't be Guaranteed but we usually see dolphins, sea lions. Wetsuits available $10 each, this is a tandem Jet ski experience for $69 per person. If you would like to ride your own ski there is single riders $50 payable on arrival. Total weight 400lbs
装备器材
All safety equipment will be provided although you are required to be able to swim a little.
Guest should bring a towel and sunscreen.
We will take a $500 damage deposit per Jet Ski upon arrival.
Drivers must be 18 and over to operate the ski
You may take a passenger as long as there over 7 years old.
Total weight of driver and passenger must not exceed 400lbs
We'll head out of beautiful Channel Islands Harbor and head south looking for dolphins, sea lions and marine life.
未来数日的可订状态
如果您想预订的时段没有显示可订状态,您可以向Tony。
Arrive 30 minutes prior to ride time. Wild life can't be Guaranteed but we usually see dolphins, sea lions. Wetsuits available $10 each, this is a tandem Jet ski experience for $69 per person. If you would like to ride your own ski there is single riders $50 payable on arrival. Total weight 400lbs
户外运动
Jet Ski with dolphins and Sea lions