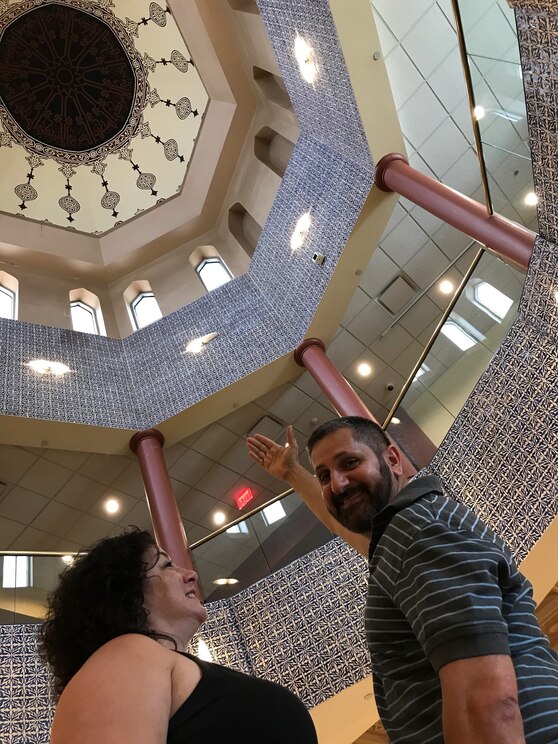 We will first meet at Shatila, one of the most popular Arabic pastry shops in Dearborn to enjoy Arabian tea or Turkish coffee and get to know one another. Next, we will be at the Arab American Museum where we'll have some fun activities! See how Arabic is written & learn how to write your name. Next, we'll listen…

Combination food Platter. Sweets Plate Vegetarian dishes available with prior notice..

Arabic Coffee

Arab Museum Tickets
I was born & raised in the Arab world, moved to Australia at the age of 15 then settled in Detroit as an adult. I'm a world traveler who's passionate about history, art, music, and food. I have been working as an tour guide for Arab American National Museum for nearly 5 years. Within the Arab nations I've been to Morocco, Egypt, Syria, Jordan, Lebanon, Oman, UAE and Kuwait. Plus I have 12 siblings so I'm well versed in Arabian family life and on many other issues. Ask me anything!!
Shatila Bakery will offer us a delicious sweet dish followed by your choice of either a Lebanese restaurant called Al-Ameer, An Iraqi restaurant called Iraqi Kabobs or a new Yemeni restaurant called Sheeba restaurant . They will all awaken your palate with rich flavors and will excite your eyes with a sense of deliciousness. The Arab American National Museum visit will give you an insight into the real Arab lifestyle, traditions and culture.