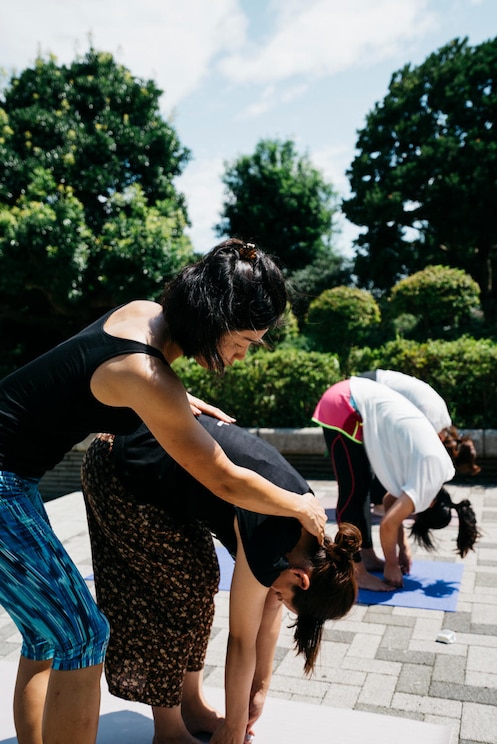 Mindfulness Yoga in Tokyo Suburbs
Mindfulness Yoga in Tokyo Suburbs
We'll practice Indian traditional yoga and create new energy with breathing exercises in a northwest Tokyo park. We'll practice doing mid-level yoga called Ashtanga—it's the real deal. We'll do some poses before focusing on breathing and purifying the body. Ashtanga literally means eight limbs in Sanskrit: 1…

Indian masala chai Let's have tea together after the session.

Yoga mats
As a marathon runner for over ten years, I learned to practice yoga as part of my training. It's been part of my daily routine for almost ten years. While living in India, I earned my RYT 200 certification in 2015. In India, serious yoga practitioners practice meditation after a session. It's a great way to purify the mind, and I was truly inspired. Join me for a physical and mental cleansing.
You're invited to Higashiyamato, a suburb of Northwest Tokyo, where you'll feel a cozier atmosphere than that of central Tokyo. Our session will take place in a peaceful park near the station. There's easy access via the Tama Toshi Monorail (with a nice view) or the Seibu Haijima Railway Line.If
您将需要拍一张自拍照,自拍照需要与您身份证件上的照片相匹配,以帮助爱彼迎确认真正将要参加体验的是谁。这个步骤您只需要做一次就可以了。
The meeting point is at Tamagawa-Josui Station( Seibu-Haijima line). Please bring your yoga mat(If you have), water bottle, and towel.If you don't have yoga mat,please let me know in advance.
瑜伽课程
Mindfulness Yoga in Tokyo Suburbs